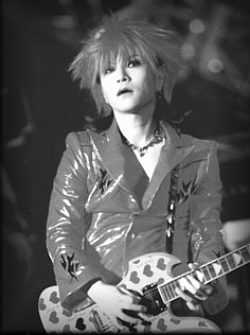 :: 19980502 everfree of hide ::
2nd of may, 1998 - a day to be remembered by all lovers of hide, X Japan, and the whole jrock scene. hide, guitarist of the lengendary X Japan, apparently committed suicide in the morning and was announced dead at 8:52am.

in that morning, hide went home (noah's ark) at about 6:30 am. his neighbour did not notice anything wrong until 7:30, when a woman in the apartment found hide in his bathroom, unconscious with a towel hanging by his neck to the door knob. hide was sent to the hospital immediately but unfortunately, he was announced dead at 8:52 am.

after the disolution of X Japan in september 1997, hide went well with his solo works, including "Zilch" and "hide with Spread Beaver". there is no evidence that he ended his life due to career depression. also, there was a rumour saying that hide was rehearsing a "suicide scene" for his next live concert, and he died of accident. his reason of death remains a mystery, police could only confirm that he was drunk when he returned home that morning.
:: hide news flash ::
20050502
hide MUSEUM will be closed for good on 9.25. For more information visit hide official site.