::: recent updates :: introdution :: jrock channels :: featuring site :: featuring album :: release schedule :::
:: aikawa nanase :: GLAY :: SHAZNA :: himuro kyosuke :: LUNA SEA :: MALICE MIZER :::
::: BUCK-TICK ::: kuroyume :: h i d e memorial :: sex MACHINEGUNS :: AMADEUS :: L'Arc~en~Ciel :: Sads :::
::introduction::
welcome to jrocker.com, the ultimate japanese rock music ring. the ring gathers all websites about japanese rock music. this website itself also contains news and information about many featured jrock bands and artists, which serves as both an introduction to jrock starters and news update for other jrockers. if you have a jrock-related homepage but has not yet submitted to jrocker.com, the largest ring in the cyber jrock community, please join us now!


::jrocker.com featuring site::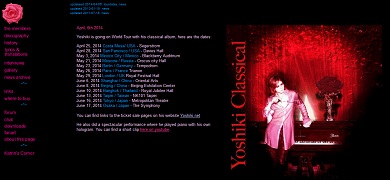 Katrin's and Chris' X Japan homepage -- a longstanding X website made by Katrin and Chris. it is a joint effort by Katrin from Germany and Chris from the United States. while it has not been updated since April of 2014, it has a wealth of information about the band.



::content:: 8/10
::updatedness:: 4/10
::design:: 6/10



::jrocker.com featuring album::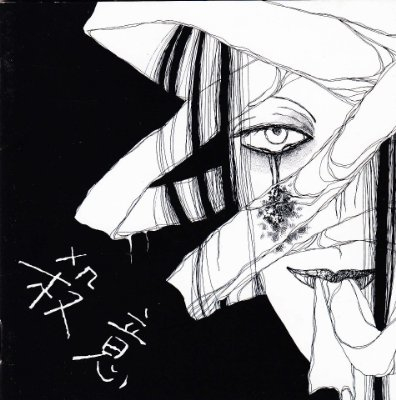 satsui - Gilles de Rais

satsui was the second album of Gilles de Rais released under Yoshiki's EXTASY RECORD in 1992. it topped the indies album chart in 1992, with sales over 20,000 copies. Gilles de Rais was a visual band formed in 1989, major debuted in 1993, and disbanded in 1995. members included JOE on vocal, JACK on guitar, DEE on bass, and SINN on drums.
full album download (53.5 mb)
::jrock release schedule::
| | | | |
| --- | --- | --- | --- |
| 20150201 | BUCK-TICK | aku no hana (remastered) (a) | VICL-78002 |
| 20150204 | THE BLUE HEARTS | The Blue Hearts 30th Anniversary All Time Memorials -Super Selected Songs- (a) | MECR-3034 |
| 20150204 | sukekiyo | Vitium (a) | SFCD-152 |
| 20150204 | BUMP OF CHICKEN | LIVE Blu-ray "BUMP OF CHICKEN "WILLPOLIS 2014"" (v) | TFXQ-78118 |
| 20150211 | Plastic Tree | 20th anniversary "Jyunen" Tour "Soshite Parade wa Tsuzuku" Shibuya Kokaido live (v) | VUBJ-1 |
| 20150214 | GLAY | GLAY EXPO 2014 TOHOKU 20th Anniversary Standard Edition (v) | PCXE-53339 |
| 20150215 | various artists | Japanese Heavy Metal First Generation (a) | UICZ-8164 |
| 20150225 | sheena ringo | a life supreme (s) | YCT-30039 |
| 20150304 | B'z | Epic Day (a) | BMCV-8048 |
| 20150304 | LOUDNESS | Loudness Complete Live Blu-ray World Circuit 2013 (v) | TKXA-1052 |
| 20150304 | Plastic Tree | Slow (s) | VUCJ-30006 |
| 20150311 | GACKT | Platinum Box - XV - (v) | GLDV-10 |
| 20150311 | EARTHSHAKER | Bird (a) | KICS-3168 |
| 20150311 | caligari | 12 (a) | COCP-39034 |
| 20150311 | the GazettE | Standing Live Tour 14 Heresy Limited - Saiteigi - (v) | SRBL-1642 |
| 20150318 | ASIAN KUNG-FU GENERATION | Easter (s) | KSCL-2560 |
| 20150318 | THE ALFEE | 40th anniversary special concert at Nippon Budokan (a) | TYCT-69080 |
| 20150318 | sheena ringo | Nama Ringo Haku'14 -Toshionna no Gyakushu- (v) | TYXT-19005 |
| 20150318 | PENICILLIN | Memories -Japanese Masterpieces- (a) | XNBG-10020 |
| 20150325 | NIGHTMARE | CARPE DIEM (a) | YICQ-10356 |
| 20150401 | PIERROT | Dictators Circus Final (a) | IKCB-9540 |
| 20150401 | DIR EN GREY | Average Sorrow (v) | SFBD-58 |
| 20150415 | L'Arc~en~Ciel | Documentary Films - World Tour 2012 - "Over The L'Arc-en-Ciel" (v) | KSBL-6180 |
| 20150415 | MIYAVI | The Others (a) | TYCT-60061 |
| 20150422 | D'ERLANGER | untitled (a) | WPCL-12064 |
| 20150429 | GACKT | 2014 Kamui Gakuen de Matomena Sai (v) | GLDV-12 |
:: jrocker.com ring ::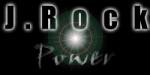 << ?? >> list